No Artificial Sweeteners, Dyes, or Fillers
28G Protein Per Scoop
Only 5 Natural Ingredients
Grass-Fed & Grass-Finished American Cows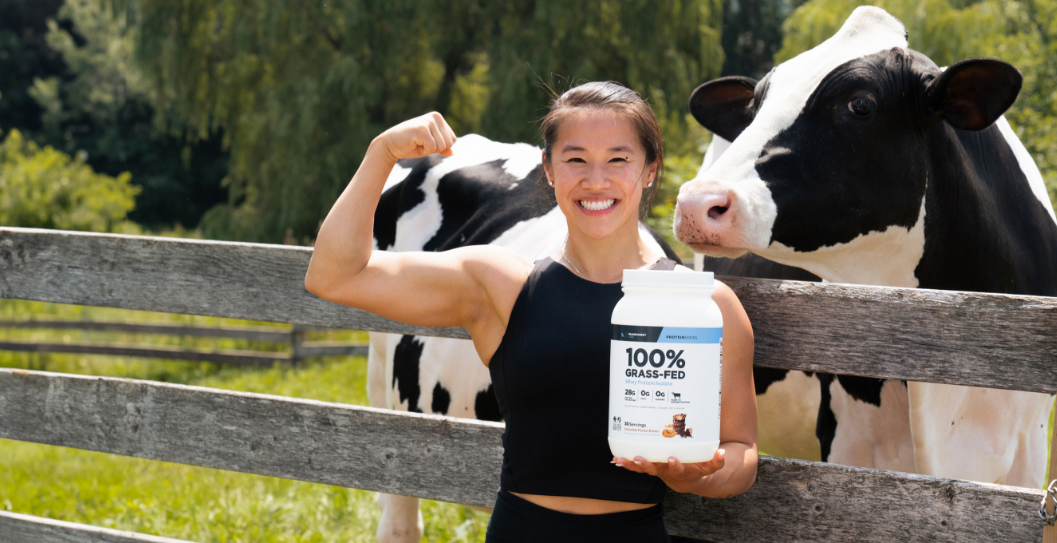 From American Farms to Your Shaker
Transparent Labs Whey Protein Isolate is sourced from grass-fed, grass-finished dairy, right here in the USA. This means the cows are raised in fields and graze exclusively on grass, resulting in a whey protein with a superior nutritional profile, including higher levels of Omega-3's, CLAs, Vitamins E and B, and essential minerals. Grass-fed protein also has a superior amino acid profile, supporting muscle tissue growth, enhanced immune function, and increased energy production.
More Protein in Each Scoop
With 28 grams of whey protein isolate in each scoop, Transparent Labs protein has one of the highest protein-by-weight ratios on the market.
Informed Choice Certified
The Informed Choice certification on Transparent Labs protein means you can trust the product has been 3rd-party tested for purity and quality.
Pure Natural Protein
Made with just 5 natural ingredients, our protein digests easily, mixes well, and tastes great! Support overall health and longevity while reaching your fitness goals.
Whey Protein Isolate
100% Grass-Fed
No Artificial Preservatives
| | |
| --- | --- |
| Does Transparent Labs ship to my Country? | Transparent Labs ships Worldwide, except to the following countries, unfortunately, due to increasingly high fraudulent activity; Albania, Algeria, India, Lithuania, Macedonia, Romania, Russia, Tunisia, & Ukraine. |
| When will my order be shipped out? | All orders ship out the following business day. |
| Does this product contain nuts? | We process products in our facility that have nuts (coconuts, peanuts). However, we have an allergen control program in place that sanitizes and cleans our equipment between allergen and non-allergen runs! |
| | |
| --- | --- |
| Protein | (Varies by Flavor) | |
| Total Fat | (Varies by Flavor) | |
| Sodium | (Varies by Flavor) | |
| Carbohydrates | (Varies by Flavor) | |
| Dietary Fiber (Varies by Flavor) | |
| Sugar (Varies by Flavor) | |
Support
Recovery
Enhance
Muscle Growth
Support Health
& Longevity
Over 3,000 5-Star Reviews
Kiamie B.
07/24/23
Finally, a truthful brand!
I've been looking for a clean protein for a long time. All these other brands that claim to be clean contain these horrible sweeteners like "sucralose", and don't tell you if they're protein us 100% grass-fed. Look no further, this brand stands true to what they advertise.
Caitlin M.
08/29/23
Best Protein Ever
The only protein that actually has clean ingredients AND tastes good! The strawberry flavor is great with even just water, and there's no fake pink/red dyes. It's the only protein I get now!
Aki G.
07/23/23
10/10
10/10 Best Protein Powder in the market! Clean, no unnecessary ingredients and 100% Grass-Fed Whey Isolate..what else can you really need? Taste is smooth and delicious, the formula itself mixes well and you do not need a fancy shaker or expensive blender.

Tracy L.
08/01/23
I love everything about this
I love everything about this whey protein! The flavors are really good and the product is clean! No sugar alcohols, artificial color or gums!
Christian M.
07/31/23
Clean and Tastes Good
Finally something that is clean, digests well, and tastes good. I've tried so many brands, looks like I'm here to stay awhile!

Brent J.
08/03/23
Great Protein
Tastes great, mixes easily. I'm trying to get artificial sweeteners out of my diet and this fits the bill.